We currently have two sites, one near Guildford (Westland Farm) in Surrey, and one near Liss (Janche Stables) in Hampshire.
We specialise in therapeutic placements for children and young people who are not able to attend mainstream provision (full time). Westland Farm also has a registered Education provision (scroll down to read more).
Monday – Friday we generally mainly work with children and young people, and during the weekend and holidays we offer different types of bespoke intervention and events, and facilitate a range of visits and sessions for people and groups across ages and needs. Please scroll down this page to learn more about what we offer at Elysian.
Elysian is not able to cater for children and young people who exhibit significant physically challenging behaviour or who have a history of harming people or animals. Due to the nature of the farm environment and current cohort we are unable to cater for children and young people with complex multiple learning disabilities.
Both sites offer a range of therapeutic intervention and the placements described below. Westland farm also offers an education provision, and  we are hoping for the provision in Liss to also offer this pending a school registration, for the school year 2023/2024.
For therapeutic placements, Elysian cater for children and young people with a variety of needs. This includes but is not limited to:
School Phobia

Anxiety

ASD

Mild Learning difficulties

ADHD

Mild to moderate mental health issues

Other developmental disorders or needs that affects their ability to engage in the traditional education environment
Therapeutic Work Experience/Therapeutic Placement -'TWE'
A therapeutic placement (often called 'Therapeutic work experience') is usually selected for children and young people currently in (long term) education provisions where additional therapeutic input is needed to sustain or compliment current provision. It is also often selected for children and young people as a shorter-term therapeutic input, where traditional methods of talking therapies is not an option, and/or there is a need for a more creative approach.
In practice, what happens during these sessions, varies greatly depending on the reason for referral. Children and Young People are matched with others for peer social interaction and learning, working towards undertaking peer activities and increased independence, and progressing confidence, independence, social skills and interaction as part of the placement. The sessions are structured in 'slots' of a mix of animal care tasks, learning and therapeutic sessions, groups and activities. Many children and young people progress towards readiness for learning, which could include either an EOTAS or education provision placement with Elysian, or a specialist provision elsewhere. Some children and young people continue with therapeutic work experience longer term alongside their education provision to support and sustain their education placement. 
The TWE sessions are 2 hours long, either mornings or afternoons, Monday to Friday. Children and young people referred for TWE are usually aged  8-17yrs old on admission, though this can vary depending on what capacity and projects we have available, and the needs of the current cohort.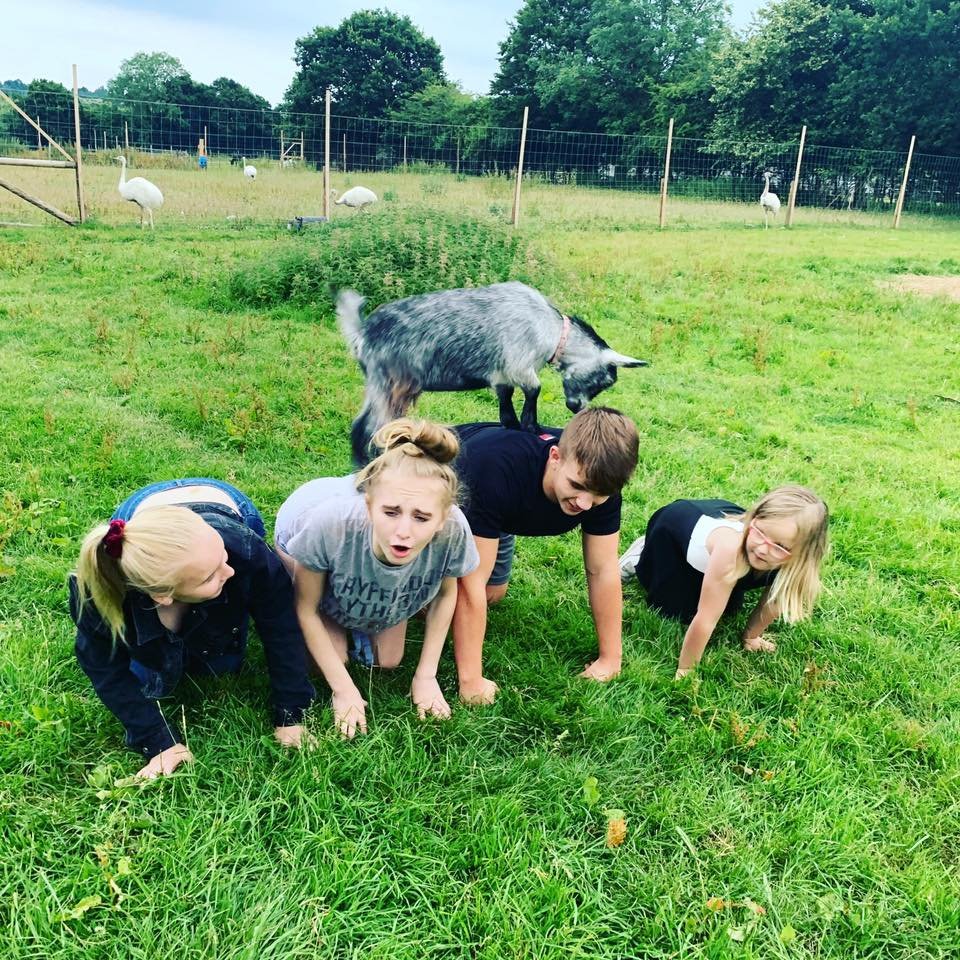 EOTAS (Education Other Than at School) Placement
EOTAS placements are for children and young people who are in temporary provision or in no current provision. These are similar to therapeutic placements in practice, with the addition of therapy and teaching time and guided learning throughout the placements, working towards accredited learning and/or qualifications individualised to each young person. This may include support readiness for learning across a spectrum of subject areas, and undertaking functional skills learning and qualifications, along with e.g. the AQA Unit Awards, NCFE functional skills or Preparation for Life and Work units. 
EOTAS placements vary from 2- 4 days per week, 9.30-3pm. For EOTAS placements the age range is 10-17. Placements are booked per term and vary from short term (one term) to long term (e.g. as part of a LA EOTAS package where the core education is provided by another organisation).
The Elysian Education provision
Elysian currently has one site that offers an Education provision, in Shamley Green Near Guildford.
The Elysian Education provision will take learners aged 11-16 and uses the farm setting to deliver formal education and therapy. Like the EOTAS and therapeutic placements, learners take part in a range of activities, and structured sessions on the farm, with structured learning sessions where their individual learning and education plans are integrated into a whole range of creative learning projects, sessions and activities on the farm. A core curriculum is provided for all learners.
Each learner has their own personalised curriculum of therapeutic education built around their specific needs designed to help them get the most out of education. Where appropriate, and through discussion with the learner, parents/carers and the school, learners will be able to study for a wide range of qualifications and accreditations including GCSE equivalents. The level at which learners' study will constantly be assessed to ensure that there is the correct balance of nurture, support, and challenge.
Staff work with animals and the surroundings as the vehicle for learning in all subject lessons, including the core curriculum subjects such as Mathematics and English. The Elysian Education provision is set up to accept and support learners on Education, Health and Care Plans (EHCP). Some learners will have condensed timetables, others may have restricted timetables, depending on a range of issues including, the requirements of the EHC Plan, ability of the pupil, parental wishes, and legitimate interests of the pupil. The timetable is also subject to review and adjustment on a regular basis. All subjects will use the outdoor environment where possible.
The formal proprietors for the Elysian Education provision are Dene and Charlotte Williams, however the Quality Assurance and oversight is supported by the Management Advisory Board. The Management advisory board consist of a range of experts in the field of Education, SEND, mental health and Social Care. You can see the Advisory Member profiles on the 'Meet The Team' Tab – when you scroll down.
The Elysian Education provision is not currently claiming or receiving any Pupil Premium funding.
Mission of the Elysian Education Provision: Support young people with SEMH to enjoy, achieve and believe through animal assisted learning.
Vision:  To work with young people with Social, Emotional and Mental Health, and mild learning disabilities in a therapeutic, creative and progressive way, allowing them to learn, feel safe and develop a sense of belonging.
The contact details for the Chair of Governors are:
Mrs Charlotte Williams, Westland Farm. Lordshill Common, Shamley Green, GU5 0TL,  Admin office phone: 07944875155, charlotte@elysianuk.org, (Only to be used for Chair of Governor direct inquiries – please use admin@elysianuk.org for general inquiries)
Weekends, holidays and 'Outside of school hours'
At Elysian there are a range of activities that happens during holidays and sometimes after school.
This can include private family sessions,  themed groups, therapy, visits from units and other group and individual activities and programmes.
Currently, you are able to book private family sessions ad hoc, by emailing and giving time and availability, for Saturdays.
These sessions are specifically for families who wish to have their own time and space together without a group setting on the farm, for bonding, fun, calm or playful time. We will shape the sessions according to the requests and wishes of the family. These are often booked by families who have children and young people with SEN/Additional needs,  It is important for us to hear from you what you would like to get out of the session and any needs/risks we need to be aware of. The cost is £45 per session.
Sessions are one hour and facilitated by our therapeutic support staff. You will get the chance to meet all our different animals, should you wish to do so.
Children with SEN/additional needs are welcome, we only ask you let us know what these are so we can adjust any session plans as needed to meet need. All attendees must be able to engage in activities safely.
Learner Expectations:
At Elysian we…
Treat ourselves and others with kindness and respect
Consider other people's boundaries and consent
Think before we react
Approach things with an open mind
Be aware of the moods and feelings of those around us.
Look after ourselves
Use social media and technology in a thoughtful way
Listen to others and understand how to work with staff and other young people.