Gleeful Goats Session
At Elysian we have lots of goats, and they need love and attention, and a little training!
This is an opportunity for families to have some fun, whilst bonding and doing activities outside.
Suitable for families, children and young people who:
Love animals
Love being outside
Want some therapeutic bonding time
Want to feel more confident and/or reduce mild/moderate social anxiety
Want to learn how to look after goats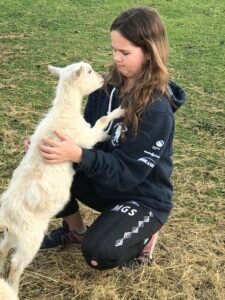 What happens?
The sessions are 1 hour long and each individual or family group as you arrive will have a brief introduction to the facilities before we take you to meet the goats. We tell you a little bit about some of the goats and you will spend some time to bond with them in the field. We ensure we do mixed fun activities based on age, needs and abilities, and that everyone has a chance at  interacting with all the animals on the farm in addition to their time with the goats. We are able to take the goats for a walk, in the arena or outside the farm. Children of all ages welcome, and children from 8+ can attend without a responsible adult.
We are testing a new 'event plug in' on our website, so do please let us know if it doesn't quite work for you, or something needs changing. Should you any have problems booking on then please email us on [email protected]. Please note that we may need to cancel your session if attendance is low.
Please do not bring any animals on site, or food and drink (due to health and safety regulations).
When you arrive at Elysian, you will see a car park. Park inside the car park, and the staff at Elysian will meet you at the gate at the event start time. They will then take you to the hand wash to wash your hands before the sessions starts.
The sessions will be outside, and we practice social distancing guidelines. Masks are optional while we are outside. Please dress for the farm where it can get quite muddy. Make sure you have the following with you, waterproofs, wellie boots or walking boots and a sunhat as you never know what the British weather is going to do!
We look forward to seeing you soon! We welcome children, young people with additional needs, and andy special request, we only ask that we trust that any attendees are able to conduct themselves safely and calmly on the farm in a group setting and follow staff instructions for safety