Part of our Ethos is that staff is our biggest and most important investment, and we have 10 designated training and preparation days for the full team every year (in addition to staff attending individual training). Our team receive regular training, which has recently included Safeguarding (including specialist safeguarding for schools, SEN, Prevent/CSE, and other safeguarding courses) Fire Safety, First Aid, working with visual impairment, managing epilepsy, Diabetes training, PDA, Sensory integration, various mental health training and lots of other relevant training sessions, workshops and professional development sessions. The whole team also undertake training in MAPA every year.
Charlotte is the Executive Director for Elysian, the Chair of Governors and Proprietor of the Elysian Education provision. She has worked in a variety of social care settings for many years, in many different roles.  Experience has mainly focussed on children, young people and their families and particularly in the area of emotional well-being.  Roles varied from working in an Early Years setting to working in and managing children's homes, a 'Family Specialist' role and managing a CAMHS Children's Rights team for Surrey County Council. Many of these roles have included training, facilitation, management and supervision.
Charlotte has had horses most of her life and has many years experienced looking after her own and other people's horses.
Charlotte's qualifications are:
Foundation Bsc Psychology and Counselling
BA (HONS) Psychology and Youth Studies
BA (HONS) Social Work
Post Grad Cert Managing in Health and Social Care
Post Grad Cert Critical Practice with Children and Young People
Advanced Diploma in Psychotherapeutic Counselling
Animal Assisted Therapy Level 3 Practitioner
Certified Equine Assisted Psychotherapy (EAGALA)
PRINCE2 Project Management Advance Practitioner
Crisis Intervention Trainer, First Aid, Health and Safety level 2, Safeguarding, supervision and other relevant and certified training in health, social care and therapy areas.
MA in Leadership in Education (2022)
Dene is one of the Directors for Elysian, and one of the original founders. Dene has a wealth of experience in social care, spending many years working in children's homes and for Surrey County Council Children's Services, before starting Elysian.
Dene oversees Facilities (Westland Farm) and finance, he also supports the day-to-day operational activities at Elysian.
Dene has a Diploma in Social Work and a vast range of relevant training in working with children and young people. Dene started his social care career working in children's homes, including therapeutic children's homes specialising in attachment. He has also worked with a large range of needs and behaviours throughout his career, also working for a period of time supporting children and young people displaying sexually harmful behaviours and a range of other complex needs and presentation. Dene has also worked in a Children in Need team and an Assessment team as a Senior Family Support worker, for many years, with Surrey County Council, until 2015, when he left to focus on establishing Elysian. Dene enjoys fishing and outdoor activities, particularly football. Dene is currently completing a Masters in Education Leadership.
Jo is our Head of Education and Learning at Elysian. Jo has a wealth of experience as an education leader, working with children and young people across ages and needs. Jo has previously provided Education consultancy to Elysian and becoming the Head was a natural choice, given her fantastic passion and experience that fits in very well with the Elysian Ethos.  Jo is a Registered Nurture group Practitioner and is currently studying an MA in Leadership in Education.
Jo is a former SEN professional and Head Teacher and has always enjoyed "thinking outside the box".  She has 24 years of experience behind her and loves the unique therapeutic approach Elysian has to learning. Jo's passion,  knowledge and experience will continue to aid in the support provided to young people at Elysian. 
BA Professional Education Studies
QTS
MA Leadership in Education (currently completing)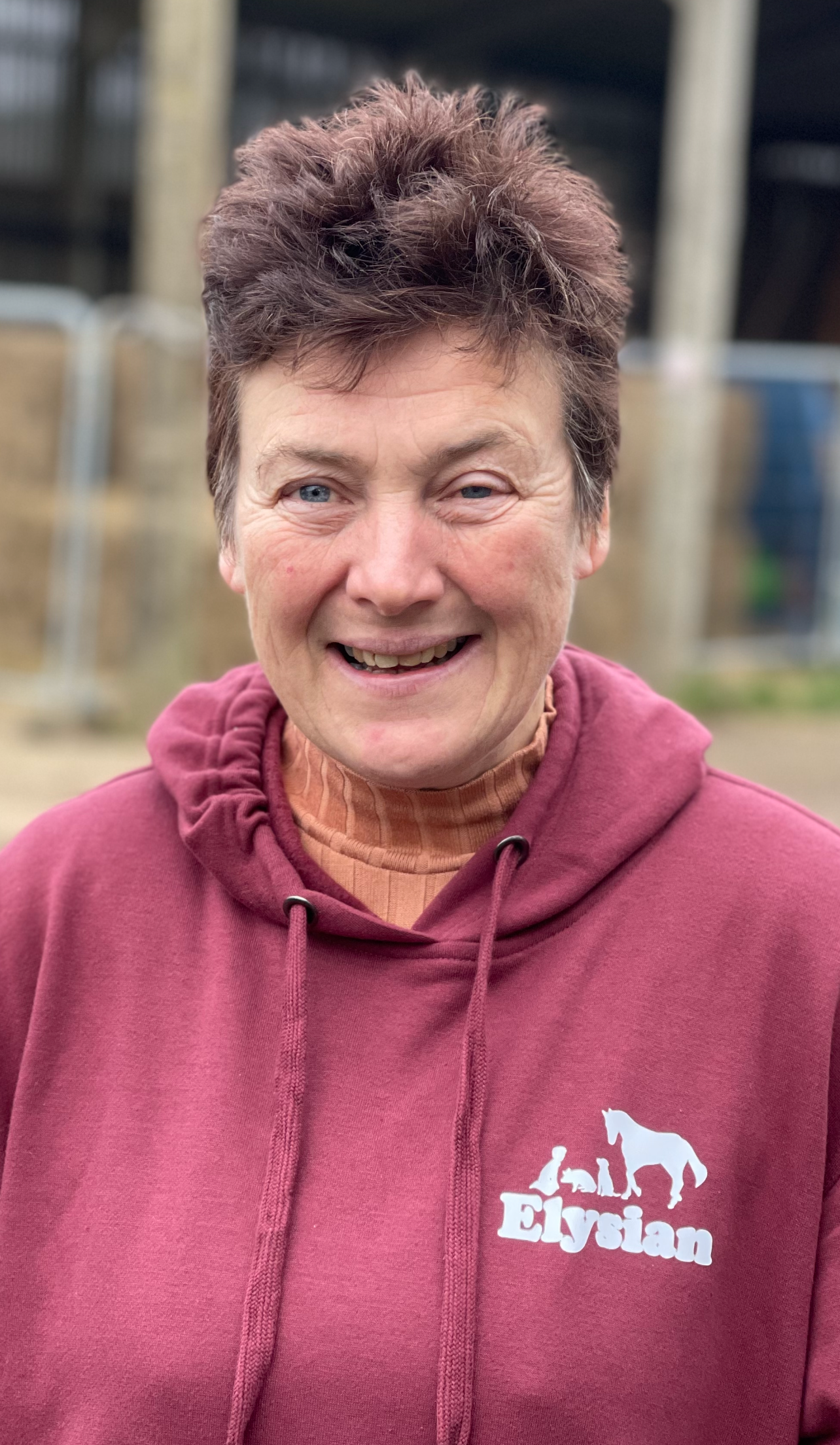 Kath is our DSL, Family Liaison and Transition Manager. 
Kath is a qualified teacher, with Head Teacher and significant management experience, who has worked across a range of educational settings and year groups and has been the designated safeguarding lead in schools, Children and Family Centres (CFC) and for Early Help  working at Threshold Levels 2 and 3 on the Continuum of Need. Kath is accustomed to multi-agency and multi-disciplinary working through a range of roles in education and social care leadership, supporting vulnerable children and young people and their families
Recognising that the traditional education system is not always suitable for the current needs of young people, Kathleen likes to think "outside the box", and sees the impact that animals can make on a young person's life. 
Kathleen grew up on a farm and has good knowledge and understanding of animal care.  She loves the outdoors and has extensive equestrian experience.
Kath's qualifications include:
National Professional Qualification in Integrated Centre Leadership 
National Qualification for Headship 
Master of Arts School Effectiveness and Improvement        
Bachelor of Education (Hons.) Applied Education
QTS
Emma is our Occupational Therapist with a great deal of experience from her time with the NHS, where she spent a number of years working in community paediatrics and adult mental health. Sensory work has always been a prominent feature in her practice. She has a special interest in trauma-informed working and is passionate about evidence-based practice.
Emma draws on her background in the arts to bring a creative approach to her work, and is a founding member of a small network of occupational therapists practicing in diverse settings. Emma has been deeply impressed by the impact of animals for health and well being throughout her career.
MSc Pre-Registration Occupational Therapy
MA Text and Performance Studies
BA (Hons) English Studies
Tima is our Day Coordinator, and supports children and young people as well as the staff day-to-day. Tima ensures children and young people's day runs smoothly, that they feel safe and supports engagement.
Tima specialises in working with a wide range of complex, challenging behaviours. Tima has been working with young people with complex needs emotional and challenging behaviour for 15yrs. Her vast amount of experience, including working in a range of children's homes where she has built up a great deal of knowledge and expertise in how to work with children and young people in a therapeutic, person centred flexible way, utilising effective communication skills with colleagues, outside agencies, children and families. Tima has an undoubtedly excellent understanding of the needs of young people.
Tima has PACE training and a range of other training such as safeguarding, first aid, Team Teach and football coaching.
Tima enjoys walking playing football and spending time outdoor.
Tima's qualifications are:
Diploma in children and young people
Diploma in health and social care children and young people
Level 2 Diploma in Equine Assisted Learning
Mim is our Assistant Head and leads on all things curriculum and assessment at Elysian. An experienced teacher with a background in Psychology, Mim has worked within primary mental health care settings and children's services.  Mim has experience of using CBT based brief therapy; leading support groups for depression; and many years of experience supporting children under CAMHS to access education.
Mim is passionate about mental well-being and helping children to grow in confidence and drive their own learning.  She has extensive experience in helping children with SEND, behavioural and emotional difficulties, including ASD, ADHD, anxiety and depression. Mim has a particular interest in PDA approaches in educational settings. In her spare time, Mim enjoys dog walks, horse riding and countryside photography.
Mim's qualifications are:
BSc Psychology Hons First Class
Postgraduate Certificate modules in Primary Mental Health Care
Graduate Teacher Programme leading to Qualified Teacher Status
Certificate in Equine Facilitated Learning (EFL)
Kay is our Development Manager at Elysian. He works closely with young people and staff at Elysian. His role is centred around increasing access and capacity for children & young people alongside improving and developing what we offer.
Kay is passionate about making a difference to children and young people's lives. He has a wealth of experience working with children and young people, most recently for many years as a as a Pastoral Care Manager at an SEMH school, working as part of the Senior Leadership team and as a hand on advocate for the voice and care of children and young people with a whole range of needs.
More on Kay's Bio coming soon!
Aimee is an experienced teacher with lots of relevant experience that benefits children and young people who come to Elysian. Aimee has excellent communication, listening & interpersonal skills, she has expertise in teaching & assessment of learning and a fantastic knowledge & understanding of child development. Aimee also has a great deal of experience of working with children with SEND including ASD, ADHD and anxiety, including delivering outdoor learning sessions.
Aimee also has lots of experience in teaching of & training staff in PSHE and mental health/well being best practice, curriculum development and the implementation of brief solution focused practice and the use of goal-based outcomes.
Aimee has also worked as an Arts Award Advisor, including delivering creative & arts projects/activities, and events management. In addition to working as a teacher in a variety of settings, Aimee has also had a number of Youth support roles, including a working as a Community Mentor.
Aimee's Qualifications:
PGCE – Teaching with QTS
Direct Text with Young People PGCert
English and Drama BA (HONS)
Mary is an integrated therapist with expertise in the Equine Assisted Therapy field. Mary is compassionate, committed, professional and well-educated therapist using effective communication and relationship-building abilities to support vulnerable children, young people and adults. Skilled in establishing a strong therapeutic alliance and comprehensive experience in conducting therapy with children, adolescents, individuals, couples and families and groups in a variety of settings. 
Mary has had a vast variety of therapy roles, from a being a school counsellor, horse assisted therapist, a  drug and alcohol counsellor and a private practitioner.
She brings this hugely varies experience and knowledge to our children and young people, including facilitating HALT sessions (Horse Assisted Therapy and Learning).
First Class BA Hons, Integrative Counselling & Psychotherapy, June 2009
Diploma, Person Centred Counselling, July 2002
Certificate in Counselling Skills, June 2000
EAGALA Equine Assisted Psychotherapy training Part One & Two
Workshop with Human Equine Alliance for Learning
Sarah is a teacher with Elysian. She originally trained as a Middle School Teacher worked in Nigeria with Voluntary Service Overseas before returning to England and working in Feltham for nearly 16 years. Sarah then gained experience as a class tutor and teacher and quickly became focused on Special Educational Needs, Specific Learning Difficulties and pupils with Social, Emotional and Mental Health needs. Sarah has since worked as a SENCo in a large school with a Pupil Referral Unit. Sarah has a broad wealth of experience in working with a vast range of needs over an extensive career in the teaching field.
Sarah's Qualifications
Postgraduate certificate Kingston University –  Professional studies- Behaviour Difficulties
Diploma in Teaching Adults and Children with Specific Learning Difficulties
BA Hons in Special Education Needs
Special Needs Pass Teaching certificate
Becca is a Teacher with Elysian. She has a BA (HONS) in English and History. She is a qualified Teacher with lots of experience in working with both children and young people as well as animals.
Becca teachers Maths, English, art and a variety of cross curricular and project based learning programmes, including ASDAN short courses.
Becca is currently undertaking a Level 3 in Counselling skills, and have completed the Arts Awards training, enabling her to facilitate the arts awards with our learners.
Becca has a great deal of experience working with a variety of SEND needs, and is passionate about getting it 'right' for our learners. She is a conscientious planner, extremely organised and has a friendly and down to earth approach.
Bernie is a teacher at Elysian. Bernie has a wealth of experience working with children and young people with autism and other special educational needs.
Bernia has a passion for creative arts, particularly dance. She's a specialist in working with KS4 and KS5 SEN pupils.
Bernie has experience with ASDAN and OCR qualifications.
Bernie's qualifications include:
PGCE Art & Design
MA Dance Science and Education
MEd Curriculum Design and Instruction
Board Certified Behaviour Analyst
QTLS
Mel is an Equine Specialist Support Worker, and she supports and facilitates a variety of sessions at Elysian, including Equine Learning sessions.
Mel has worked in lots of different roles, including being an Early Years Practitioner and working as Residential Support Worker in a children's home. Mel has worked with  trauma and challenging behaviours as part of this role. Mel has a great rap[port with many young people at Elysian.
Mel's qualifications include:
– Bachelor's in Childhood Studies
– Foundation Degree in Early Years Childcare & Education
– BTEC National Diploma in Animal Care
Formal Training and CPD:  * QCF in Residential Child Care  * POP – Pillars of Parenting (the framework used to underpin the therapeutic model of corporate parenting used within Hampshire Children's homes)  * First Aid at Work  * Safeguarding – level 3  * Lone working and keeping yourself safe  * Team Teach – Intermediate and advanced  * Working with Challenging Families  * Building Resilience  * Prevent – Radicalisation Awareness  * Food Safety – level 2  * Medication awareness  * Makaton Core vocabulary  * Supporting Children with EAL  * PATHS – Promoting alternative thinking strategies  * Schema awareness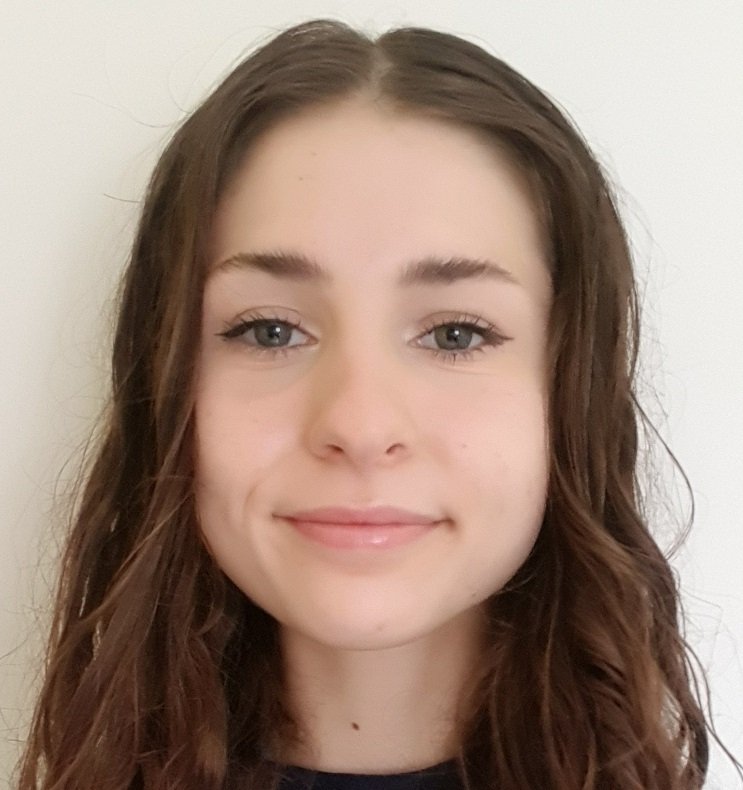 Caprice is an LSA with Elysian
Caprice has worked in residential care and has gained significant experience working with children and young people, including young people with complex mental health needs, behavioural and learning difficulties.  She has also worked as a volunteer for the Riding for the Disabled Association, and is confident and knowledgeable around animals, and how to support young people in undertaking activities with horses. She has also worked as a volunteer at the ABC Animal Sanctuary.  She has experience with safeguarding and first aid, and working with a range of complex challenging behaviours. Caprice has a well developed understanding of trauma, complex behaviours, needs, and triggers for young people, and a passion for working in a person centred way. Caprice also has a BA in Criminology and Sociology 
Sean is our Maintenance, Grounds Worker and Carpentry Assistant and is part of the Maintenance team at Elysian.
Sean loves the outdoors and thoroughly enjoys his time at Elysian along the variety of work.
He was previously an Art Technician at a prestigious school, which included print making, installing exhibitions, wood working and sculpture building. His experience also extends to construction, gardening and site maintenance.
Sean has a keen eye for detail, and lots of experience working directly with children and young people with SEND in a range of creative and supportive ways.
Sue is a TA with Elysian. She has previously worked in several education settings, including as a Senior Teaching assistant and HLTA, and has many years experience in support students and young adults with severe social communication difficulties, complex learning disabilities and challenging behaviours. She has used her experience and compassion to help them to learn and to achieve relative to their individual needs and to reach their full potential.
Regular CPD has ensured that she has continued to learn and improve her practice, in both the classroom and in any other tasks that she has undertaken. She takes a lead as required, has a nurturing nature and a proactive approach to working with a whole range of needs.
Qualifications
Higher Level Teaching Assistant Status  March 2020
BPhil Special Education Autism (children) 2017
University Certificate in Autism Spectrum Disorders 2015
Understanding the Autism Spectrum 2010
NCFE Level 3 Diploma in Specialist Support for Teaching and Learning in Schools 2010
Diploma in Preschool Practice 1996
Diploma in Radionuclide Imaging 1988-1989
Claire is a support worker with Elysian. Claire has extensive experience in residential childcare, working with autistic and vulnerable young people. 
Claire is organised, proactive and able to think outside of the box. She is a good problem solver even under pressure and enjoys working as part of a team. Claire has worked in residential childcare for over 10 years and understands the impact therapeutic work can have on young people and their mental health. 
Claire's qualifications are:
Level 5 Diploma in Leadership and management in residential Childcare
Level 2 Diploma in Mental Health
Level 3 Diploma in Children and Young people's workforce
First Diploma in Health and Social Care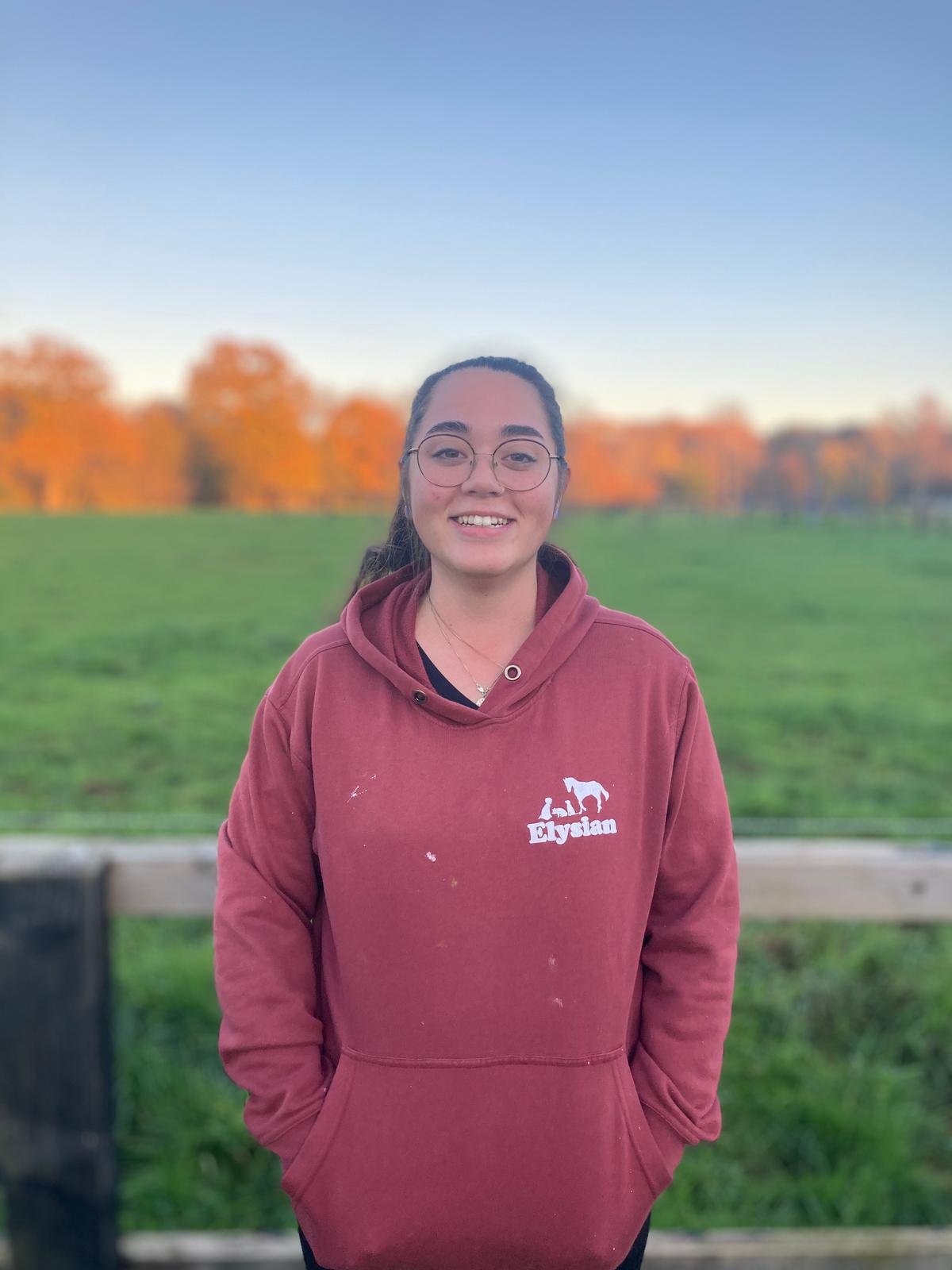 Sakura is a Learning Support Assistant with Elysian. She is an enthusiastic member of the team, always willing to put her hand to anything and try new things. She is particularly enthusiastic about animals., spending most of her free time is spent with
her dogs and cat. She also enjoys horse riding and spending time outside with the horses on the yard. Sakura is creative and enjoys trying. She loves to  travel and visit cultural sites all around the country and world. She enjoys reading books, travelling and music.
Sakura has completed a range of Educare qualifications such as First Aid- Level 2, Fire Warden Level 2, Safeguarding Young People- Level 2 and more.
Sakura is Fluent in German, Swiss German and conversational in Japanese. She is comfortable and confident in her work with children and young people and techy with computers. She also has a GDPR qualification for Education Level
2)
Qualifications:
Level 3 Diploma in Animal Assisted Intervention

Special Educational Needs and Disabilities Diploma (SEND)

BA(Hons) In Music Industry Practice
Higher class Honours 2:1


Phil is our Maintenance Manager, and he is in charge of all things Maintenance and Development at Westland Farm. Young people enjoy getting involved in Phil's projects, from building works, to fencing and all the associated farm duties of running a medium scale farm. 
Phil has been in the building trade his whole life, and there is nothing he cannot do. Phil is an independent building contractor and he used to oversee house builds from scratch as a site manager, and many other builder and carpentry roles that has made him the expert he is today.
Phil has been involved in developing Elysian since its origin in 2015, and Elysian would not be what it is today if Phil had not been part of the team, his skillset has allowed us to utilise space and buildings in the best possible ways.
Duncan is our Maintenance and Grounds Worker and has a wealth of experience in fencing, maintenance, groundwork and gardening. Duncan can put his hand to anything
Duncan is confident and hardworking at his job, and an excellent team player, which ensures maintenance is kept to a high level at Elysian.
Duncan loves the countryside and spends a lot of time walking. He also has an interest in falconry and photography. 
Nicola, Elysian's cleaner, brings 20 years of cleaning experience.
Nicola is bubbly and hardworking and does an excellent job ensuring the offices and buildings are cleaned to a very high standard.
Nicola also has a keen interest in horses, alongside experience in landscaping and a love of animals, which all lends itself well to working at Elysian.
Abby is a Learning Support Assistant with Elysian. She has a passion for all things Equine and is involved in supporting all activities both learning and therapeutic at Elysian.
Abby is friendly and always has a smile on her face.. She has worked with children and animals for many years as she has conducted placements during her degree and has worked as an activities assistant at another farm ensuring safe handling and interaction between young people and animals. She has also recently completed a degree in psychology and is keen to utilise her skills and knowledge at Elysian.
BSc Psychology (Hons)

Four A Levels

Eleven GCSE's, including English, Maths and Triple Science, graces A* –  A
Ella is our teaching assistant apprentice. Ella is a fountain of knowledge regarding the farm and our animals and is involved in all activities at Elysian, especially those involving animal care.
Ella is hard working and is always happy to answer questions regarding the animals, answers to which she communicates with the greatest of ease and enthusiasm. 
Ella is currently completing an apprenticeship with Elysian to further her knowledge of education and the supportive element required within these sessions. 
Diploma of Higher Education in Animal Management Level 2
CPD in SEN Teaching Assistant
CPD in British Sign Language Level 1 & 2
Level 3 Teaching Assistant Apprenticeship (Ongoing)
Amelia works at Elysian every Friday, looking after the horses and Animals. She is currently undertaking Level 3 Animal Management at Merrist Wood and is extremely passionate about all animals. Amelia works hard and ensures that each of the animals at Elysian are checked, healthy and happy.